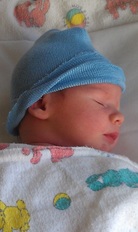 The Cooper James Costa Memorial Scholarship
---
On October 18, 2012, God blessed our son, George III and his wife, Leanne, with a beautiful son, Cooper James Costa.

Four short days later, Jesus carried Cooper to his heavenly home where he now serves as a warrior for God.

The Cooper James Costa Scholarship was conceived by my husband, George, as a way to honor Cooper's memory.

In an effort to honor and recognize our military and those in law enforcement, we offer 2 full scholarships to women who have or are currently employed in law enforcement or serving in the military, or are wives, mothers, or daughters of law enforcement officers or members of our armed forces, current or past.
---
The scholarship includes full retreat registration, lodging in the bunkhouse, if desired and, if necessary, the rental of a V6 horse for the retreat.

To apply for the scholarship, applicants are asked to submit a letter, telling us about themselves, their family and what it would mean to them to attend the retreat.

The scholarship committee will review all submitted letters and choose a recipient by August 30.
Applicants may either submit their entries by email (
krisscosta@horswomenbygrace.com
) or mail them to:
Horsewomen By Grace
Attn: George Costa
5426 San Felipe Rd.
Hollister, CA 95023

Please be sure to include your phone number, so we can contact you, and if possible, a picture of yourself.

The deadline for applications is August 30.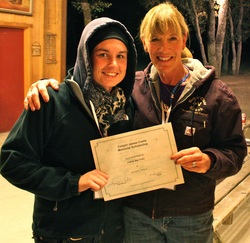 2013 Scholarship winner, Casey Ste Croix (on left)
---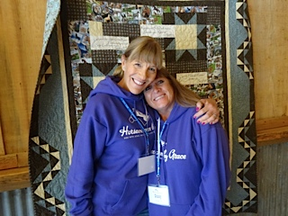 2014 Scholarship winner, Stacey O'Hara (on right)
---
2015 Scholarship winner, Leanna Frame (picture coming soon!)
---
---
To donate to the Cooper James Costa Memorial Scholarship, please send your donation to: Horsewomen By Grace, Attn: George Costa, 5426 San Felipe Rd, Hollister, CA 95023. Please make checks payable to "Horsewomen By Grace" and note "CJC Scholarship" in memo area.

PLEASE NOTE: Although we are currently applying for our non-profit status, 501 (c)(3), we are currently unable to supply you with a tax deductible receipt.