IMPORTANT!!!
Please remember, this is YOUR retreat! All activities are optional.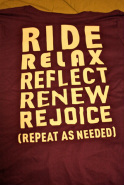 We truly believe in our "6-R" motto
---
Check in time will be on Thursday, November 9 between 2 & 4:00.

This should give everyone time to get their horses settled in and camps set up. If you think you might be arriving later than 4:00, or early Friday morning, please let us know, so we don't worry about you!

The V6 Ranch offers a spacious campground setting nestled in beautiful oak trees. Travel trailers, horse trailers with living quarters, campers and tents are acceptable. RV patrons may use generators.

Electricity is available at the common area of the camp for all riders' use. There are 30 water hook-ups available on a first come, first serve basis. Even if your horse trailer doesn't have living quarters, all you need is a place to put your sleeping bag, since we provide all your meals and full showers and bathrooms are available at the campgrounds.

PLEASE NOTE: Parkfield receives an average of 12 inches
of rain a year, so please don't let that keep you from planning on attending.
Rain should not be a factor.

Horse Facilities
There are 45-10' x 15' portable pipe corrals for horses. Participants can also bring their own portable corrals, or horses may be trailer tied or high lined between trees. Hay will be available for purchase but it is recommended that you bring your
own.


The V6 is a beautiful place to explore as well as take pictures, so remember to bring your camera.

Of course we will be riding some great trails. You will also be given an opportunity to try you hand at cattle sorting, cutting or roping!

If you don't feel like riding, feel free to take a hike or bring your bike and enjoy some of God's prettiest handy work!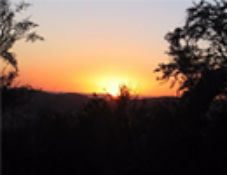 Each morning, after breakfast, attendees will gather together to learn more about God's truths from His love letter to us, the Bible.

Our theme this year is "Thy Will be done" & "Be still".
Together, we'll search God's Word & share ideas on how to surrender to His Will and be still when every thing inside us says otherwise.

Attendees are also encouraged to bring and share one or more of their favorite inspirational books, bibles or devotionals.

Other activities and games will be available.





---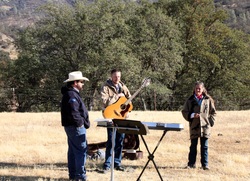 Our weekend will wrap up on Sunday, with a cowboy church service on horseback. If you've had enough riding for the weekend and you brought your bike, you can ride it to the site or jump into one of the ranch vehicles and drive to the site of the service.

After the service, retreat attendees will have the option of taking one more short trail ride, before departing for home at noon.
---
Check out our "Highlights of Past Retreats" page to learn more about what to expect!

ABOUT THE V6
The V6 Ranch is a real working cattle ranch, nestled in the Cholame Valley. It envelops 20,000 acres of the most diverse and alluring
country in the heart of central California.

Located an equal distance between Los Angeles and San Francisco, just a four hour drive from either city, the V6 Ranch offers the delight of bygone days in a world where fast is the average speed.

This beautiful ranch will tickle the fancy of any person that seeks peace and quiet or just wants to get away from the street lights and asphalt. The V6 Ranch is a frontier once populated by a few homesteaders, but now occupied by an abundance of wildlife, wildflowers, cattle, and horses. Nature's delights can be seen from every angle. The clean air and warm nights are ideal for laying out under the stars. The clean water from the streams allows you to be refreshed naturally.

The ranch offers hiking, photography, over 200 varieties of wildflowers, wildlife, and bird watching. Pine Canyon Lake is the largest on the ranch and is a wonderful place to fish, swim, sunbathe, or row our boat out to the double decker floating
dock.


---