The 2016 Retreat is now full
But we will have a waiting list. If you'd like to be put on the list, please send us an email or call
4th ANNUAL
​HORSEWOMEN BY GRACE RETREAT
​Nov. 10, 11, 12 & 13 2016
​V6 Ranch, Parkfield, CA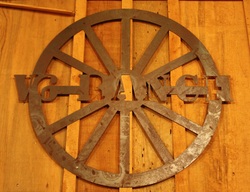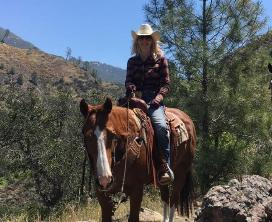 Introducing Our 2016 Speaker
Lisa Walter

Lisa was born and raised in San Diego in a Christian home with one older brother. It became apparent at an early age that she was born with the "horsey gene"!! Due to the efforts of her father, she was introduced to horses by friends who taught her to ride and play the guitar. The guitar fell off her radar after a few years but her interest in horses continues to this day. To the exclusion of other "normal" childhood activities, she would spend nearly every weekend with these friends, waking early in the morning and mucking stalls for the privilege of riding and loving every minute of it. With the death of her father at age 12, and as other activities pressed in during her high school years, horses took a back seat but were not forgotten. She looks back on those years and the lessons she learned with great fondness.
Fast-forward well into adulthood, Lisa had the opportunity to buy her first horse, "Dooley", an APHA registered two-year-old gelding. She and Dooley grew together as a team and began competing and showing in western shows and events. She recalls winning a blue ribbon in the very first class they ever entered – thinking at the time that this must be a trick to get them hooked on showing! They logged many hours on trails in Joshua Tree National Park and here on the Central Coast. After more than a decade, through an amazing course of events and undeniable direction from God, she met her next (and current) horse, "Sabbath" and Dooley moved on to his real calling in life, working as a therapy horse in the program in Santa Ynez, CA.
While growing up in San Diego, Lisa and her family attended church regularly. She went to Sunday school and learned and memorized over 100 verses from the Bible, earning her a gold-edged Bible with her name engraved on the cover – a treasure she still uses today. It was at church camp, however, at age 11, where she first heard, understood and received the Gospel message.
After graduating high school, she entered the workforce, got married and had one daughter, Lindsay who is now expecting her first child. She worked in the insurance industry for over 25 years with such companies as Prudential, Transamerica, New York Life and Merrill Lynch. God blessed her with a "Rookie of the Year" award for the two years she was with New York Life and she was first in the nation in annuity sales with Merrill Lynch in early 2000.
Soon after her daughter was born, her marriage ended in divorce. After a time of walking away from the Lord she had met back in church camp as a youth, she re-committed her life to Jesus with a deeper and more mature understanding of what it means to live the Christian life. She met and married her husband, Rob while at Merrill Lynch almost 18 years ago.
Nearly 12 years ago, God tapped this unsuspecting couple to start a church in their little town where Rob gives the message and Lisa leads worship for a small but faithful congregation. Lisa and Rob live on a small ranch in the Santa Ynez foothills with 4 cats, her horse Sabbath, and any number of boarded horses on the property.


---
**Due to a medical emergency, Barb Cox, will not be speaking at this year's retreat**.


---
Information on Retreat Accommodations, Retreat Fees & V6 Ranch Horses for Lease


---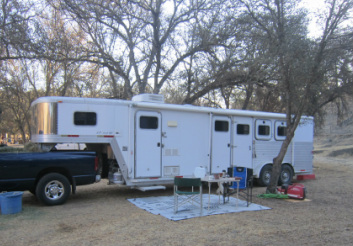 1) Camping- tent, camper, RV, horse trailer (sorry, no hookups available) bathrooms and showers available---$500

---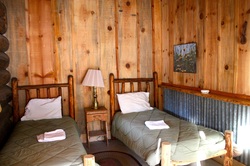 2) If camping isn't your thing, you may rent a room at the bunkhouse with showers and bathrooms adjacent...$613/double occupancy (5 rooms available)
---
---
3) Or if you like a little more "luxury" (private baths) you can rent a room at the Lodge...$694/double occupancy
​ $629.00/person/3 people/room
---
Above fees include-

-all meals (Thursday dinner, breakfast, lunch & dinner Friday & Saturday, & breakfast Sunday)
-water & snacks
-hors d'oeuvres & wine before dinner
-paddocks, with water, for horses (you can bring more than one horse)
-all retreat activities
-guided trail rides
-team sorting/cutting/roping at the arena with wranglers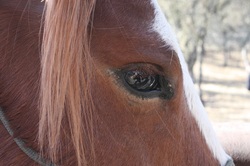 DON'T HAVE A HORSE TO BRING?

The V6 ranch horses are available for rent.
Rental fee is $225 for the weekend.




---
In case rooms are not available,
Luv2Camp RV
, has travel trailers available for rent. For rental rates, delivery and set up costs, please contact them at 1-888-898-2267 or visit their website at
www.pasoroblesrvrentals.com