Highlights and Reflections of Past Horsewomen by Grace Retreats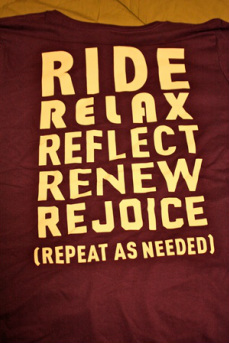 WE...
RODE...the beautiful hills
of theV6 Ranch
RELAXED...and enjoyed our time with the Lord, our horses &
our new
friends
REFLECTED...on God's Word and His love and
will for us
RENEWED...our relationship with the Lord
and our horses
REJOICED...at God's love for us and all
the beauty around
us
(REPEATED AS NEEDED)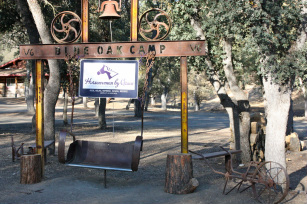 It is not unusual for attendees to comment on how they felt God's presence, protection and peace when they arrived at the horse camp...




...even the ranch dogs feel the peace!


---
Our weekends are always blessed and full.
Besides having time to visit and get to know each other better and exploring the beautiful hills of the V6 on horseback, we:

- have an opportunity to practice cutting, team penning, and cattle sorting
- hike
- meditated on daily scriptures
- enjoyed group activities and games
- learned to line dance
- have a chance to win raffle prizes
- take time to reflect on God's Word and Will
- lift our voices up to God in music worship
- enjoy and marvel at God's majesty at our Sunday worship service on horseback (see picture on Home page)



2013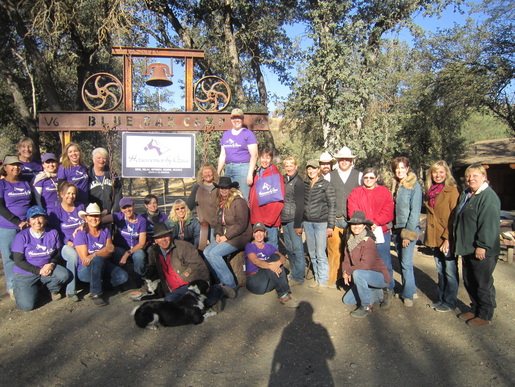 At our 2013 retreat, we were blessed to have as our guest speaker, Cowgirl Hall of Fame member and professional cutting horse trainer, Barbra Schulte. Barbra is also known for her work as a personal performance coach, author, clinician and equine consultant. On Saturday, Barbra gave two insightful and thought provoking talks. Barbra's "Mental Makeover" talk, gave us powerful, step by step mental riding strategies and suggestions to become more confident and successful not only with our horses and in competition, but in handling life's challenges. Most of the retreat participants also recognized how these strategies could also help deal with family, friends, coworkers and bosses!

In her second talk, "Peaceful After All – Walking Through Life's Traumas and Coming Out the Other Side Feeling Blessed", Barbra share with us her journey through her son Zane's battle with cancer, and life after his passing. This talk not only touched the attendees but also gave them insight on how best to help those who have lost a loved one or close friend.

Thank you so much for sharing with us Barbra and helping to make the retreat a success!

To learn more about Barbra, please click here.
---
In addition to our regular activities, those who wanted to, were able to start their day with a sunrise devotional and prayer hike.


We also had a great stretch session after our long day in the saddle and learned some equine stretches for our 4-legged partners!


On Sunday, some of the attendees, who had brought their bikes, enjoyed a great bike ride to our church service location.



2014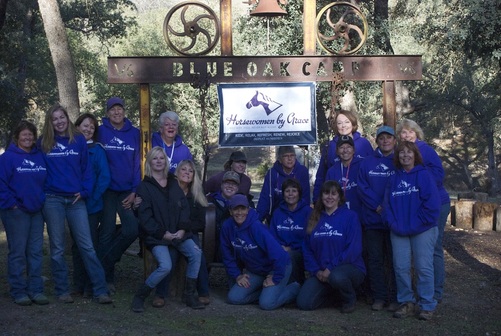 Maureen Gallatin, author of "An Extra Flake" devotional, founder of Amazing Women Inspired by Horses, and Executive Director of The International Center for Equestrian Ministries (ICEM) was our speaker for our 2nd retreat. Maureen believes horses have a special mission to help us develop faith in God, confidence in ourselves, and effectiveness in working for the greater good.


By using the message of hope and providing leadership training, her desire is to help people discover and achieve their mission in sharing God's love through horses.

Maureen definitely has, and practices, the "gift of presence". Anyone speaking with her knows she is truly "present" and they have her full attention.

Retreat attendees received lots of little "nuggets" of wisdom that will not only help them walk and grow closer to God, but also give them the ability to help others in their walk and relationship with the Lord.

With her uplifting wisdom and spiritual encouragement, Maureen spoke on topics such as --
-"Identity Theft"- how the enemy loves to steal our identity and make us feel we are less than what God created us to be.
-"Restoring the Relationship"- between ourselves, God, other people and even our horses.
-"Who you are, isn't always how you act"
-"Remove guilt, don't manage it"
-"What happens when plan "A" fails?"
-"Past labels"
And much more.





---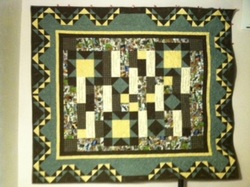 A beautiful, handmade lap quilt, inlaid with scripture, was raffled off Saturday night. The quilt was carefully and lovingly made, and graciously donated, by Kim Austin. Proceeds from the ticket sales went to the Cooper James Costa Memorial Scholarship.
---






We got to know each other better


---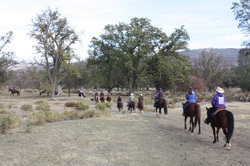 We rode


---



We played with cattle


---
And we ended our special weekend with a beautiful church service on horseback.

What was so cool, was at the end of the service, an eagle flew over head!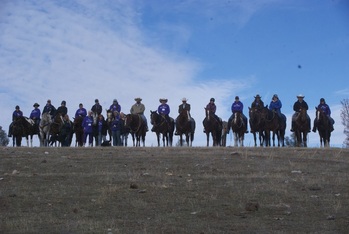 ---
2015
As in years past, God's presence & protection could be felt all around us throughout the weekend. We were incredibly blessed with beautiful weather, fun rides in the hills & lots of laughs working cattle.

Our speaker, retired US Air Force pilot, commercial pilot and author, Heather Sharp, not only kept us entertained throughout the weekend with her amazing, and often times funny, stories, but rode with us as well.

Sue Carter blessed us by leading us in music worship.

We giggled and laughed (as well as worked off some of the delicious V6 dinner) as Erlinda Sullivan taught us how to do some line dances.
​
Kim Austin, again, donated a beautiful, one of a kind, handmade quilt, she quilted, for the Cooper James Costa Memorial Scholarship Fund raffle.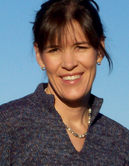 ​
We had wonderful sharing during our Bible study, and of course, Pastor Josh closed out the weekend with a rich & thought provoking church service. Take a look at the following video to get an idea of how great a weekend it was.
​
https://youtu.be/m0JNViIDOCY
​
MORE ABOUT HEATHER
It is a miracle that Heather is alive today. She had not one, but TWO freak accidents. In the first accident, she was T-boned at highway speeds. She had a crushed pelvis and a mild traumatic brain injury. The ambulance that responded to the scene thought she was dead. Two years later, a tree fell on her head. Ironically, the same helicopter team responded and, again, they thought she was dead. They rushed her to the hospital where portions of her skull had to be removed to stop the bleeding on her brain. In addition to the severe brain injury, she also had 12 fractures in her back.
But God had plans for Heather and He is was not ready to call her home. He kept sending her back! Today, Heather relays her story with humor and candor. She strongly believes her miraculous recovery is thanks to God.
She now realizes that her life is unique. Growing up, Heather thought her life was normal. Didn't every girl get up at 3 a.m. to help her dad (a vet) do surgery on a cow, compete in rodeos every weekend, and give riding lessons to pay for flight training? When Heather became the only female in her Air Force pilot training class, she realized that her life might be a little unconventional. She flew the C-130 for the USAF, and the Airbus 320 and the Boeing 747 worldwide for Delta Air Lines.
Heather shared what a patient suffering from a brain injury or traumatic event might be going thru. Heather didn't claim to have all the answers, but offered her perspective and insight.
---
The V6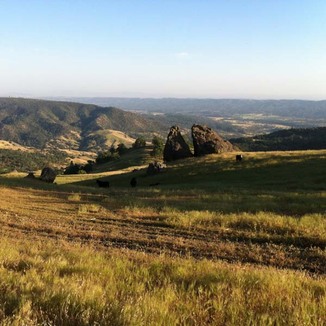 The V6 Ranch is a real working cattle ranch, nestled in the Cholame Valley. It envelops 20,000 acres of the most diverse and alluring country in the heart of central California.

Located an equal distance between Los Angeles and San Francisco, just a four hour drive from either city, the V6 Ranch offers the delight of bygone days in a world where fast is the average speed. This beautiful ranch will tickle the fancy of any person that seeks peace and quiet or just wants to get away from the street lights and asphalt. The V6 Ranch is a frontier once populated by a few homesteaders, but now occupied by an abundance of wildlife, wildflowers, cattle, and horses. Nature's delights can be seen from every angle. The clean air and warm nights are ideal for laying out under the stars. The clean water from the streams allows you to be refreshed naturally.

The ranch offers hiking, photography, over 200 varieties of wildflowers, wildlife, and bird watching. Pine Canyon Lake is the largest on the ranch and is a wonderful place to fish, swim, sunbathe, or row our boat out to the double decker floating dock.